Get Your Free Website Evaluation
Want to know how your website is doing? Get the results straight to your inbox!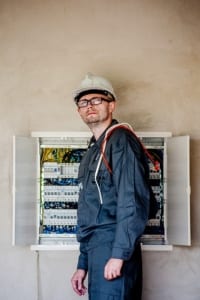 Pay-Per-Click Advertising For Electricians
Have you heard about pay-per-click advertising but you aren't sure how to use it to grow your electrical business? Or maybe you've tried a few ads but they didn't do as well as you had hoped so you abandoned the strategy.
Placing strategic ads can definitely help your electrical business grow. At Wit Digital, we have advertising experts on staff who can create an electrician PPC or SEM campaign that will aid you in getting the business you've always wanted. Let us help you design your online advertising strategy so you can focus on the technical aspects of being an electrician.
PPC vs. SEM
Electricians ask us all the time about the difference between pay-per-click (PPC) advertising and search engine marketing (SEM). You can use both electrician SEM and PPC in an effective ad campaign, but they are two different things. Here's what you need to know.
SEM can be used in several different ways in the online marketing industry. Some experts label anything that you do to raise your search engine ranking as SEM. This means that your SEO efforts and your efforts to get more reviews would all be SEM.
However, SEM can also refer to advertising that shows up when people search. Run nearly any search these days and you'll see that the first few hits that pop up are actually ads. They will say "Ad" or "Sponsored" in tiny print. These ads are targeted to show up when people type in certain keywords. If someone clicks on the ad, then the business pays. Because the ads show up at the top of the page, they are more likely to garner clicks than listings lower down.
PPC refers to any other ads where you pay anytime someone clicks. They show up on social media sites, relevant blogs, and more. They can include more than most SEM ads, including photos, video, audio, and more. (Technically, an SEM ad is a type of PPC ad, but they're almost never referred to as such.)
Your Online Advertising Strategy for Electricians
We will help you design your ads and target your campaign so that you can reach your target market. Our process includes:
Choosing keywords for your electrician SEM and PPC campaign.
Determining your target markets. This includes where you want your ads to show up, like on Facebook, Google, and more.
Creating your ads. We can help you select videos or choose photos that are likely to draw in your audience.
Setting up your ads. We'll make sure they are uploaded correctly and will show up at the right times.
Tracking your ads. We'll see how each ad does and find out which ones are the most effective.
Tweaking your campaign. We'll update your strategy so it's even more successful.
We would love to help you develop an online advertising strategy that will grow your electrical business. Let us help you with your electrician PPC and electrician SEM ads, and watch the hot leads start coming to you.