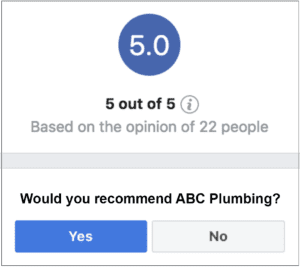 The results are in – Facebook Recommendations is now officially taking the place of a 5-star reviews. Now, users are asked, "Do you recommend ABC Plumbing?" and are given the option to say, "Yes" or "No."
In addition, users can also choose to tag their review, which makes it easier for others to find. If someone thinks you have the "Best Plumbers" around, they can add that tag and it will pop up when someone else in the area searches for a plumber.
Users will also be given the option to upload photos relevant to their review. If they love your new trucks, or their bathroom remodel, they might post a photo for everyone to see. This gives potential customers an even better sense of who you are.
Why is this important?
All of this is designed to make your business even more accessible to customers interested in what you're offering. Searchable tags mean that more people might see you if they search for a tag that's been applied to your page.
And don't worry! You haven't lost your previously hard-earned reviews. They will still be there and will be included in your overall page score. Potential customers will still be able to read these, they just won't be able to add one later. Instead, they'll get the new Recommendations system.
The reviews and recommendations, together, will determine your page score. So keep asking for those recommendations and watch your page grow!
What do I need to do moving forward?
Right now, it's time to let the new system roll out and get as many recommendations as possible.
ACTION STEP: From your business page, click on 'Recommendations and Reviews' and 'like' and respond to every single one that doesn't already have a response. As we learn more about these updates and how it may affect your business, we will keep you posted.