Get Your Free Website Evaluation
Want to know how your website is doing? Get the results straight to your inbox!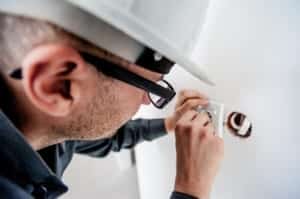 If you want to expand your electrician business, it's key to rank highly in search engines for commonly used search terms in your area. At Wit Digital, we will help improve your ranking for these key phrases so people will find your website, check you out, and contact you when they need electrical help. We'll improve your electrician SEO so your company can grow.
How it Works
If you don't understand electrician company SEO, don't worry! That's our job and we have an expert team who does it very well. We'll apply that expertise to your business so you can pull in more and more electrical work from your community. Here's what our process looks like.
Analyze your market. We will look at all of the aspects of your market, including where you are, what your competition looks like, and who in your area uses electricians the most. We'll also figure out how people in your area are searching for electricians online.
Choose your keywords. Based on our analysis, we'll generate a list of keywords that we want to help you rank highly for in search engines. When it comes to electrician company SEO, this list is your golden ticket to more and better leads.
Develop a strategy. We will add targeted content to your website, but we'll look for other ways to improve your search engine ranking, too. We may help you get more reviews from customers or talk to you about improving your social media presence or the quality of your website. We can help you with digital advertising, too.
Optimize your website. We'll check your website and make any tweaks necessary to improve your electrician SEO rankings. We may help you change its structure, add or subtract content, include more calls to action, etc.
Monitor and track your progress. We will never "just set it and forget it" when it comes to your SEO campaign. Our experts will continually track your rankings for your keywords and note any changes for you. We will also be in touch with you about whether people are responding to your business in new ways. If you're getting more calls or solid leads, that's a huge improvement!
Tweak your campaign. All of our monitoring goes towards improving your campaign. The more data we get, the more changes we'll be able to make to move you and your electrician business forward and up the ladder of Google rankings. We'll also consider the continual changes going on behind the scenes with search engines, social media platforms, and more, so you'll always be using the latest technology to grow your business. We will make changes whenever necessary to expand your reach!
We know that you need an effective SEO campaign when you are expanding your electrical business. We will improve your electrician SEO so you get the search engine rankings you need to be seen and to draw in customers. Contact us today to talk to an SEO expert about what you can do to get your business growing today!