Get Your Free Website Evaluation
Want to know how your website is doing? Get the results straight to your inbox!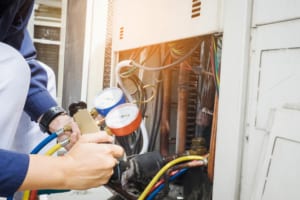 Would you like to expand your HVAC business but nothing seems to work? Improve your search engine ranking with HVAC marketing from Wit Digital.
Your search engine ranking can make or break your HVAC business. Sure, it's great to be on the first page, but the closer you are to the top of that page, the more clicks and conversions you will get. Even if you have a solid website, that alone may not be enough to get you where you need to be to make your HVAC business grow.
Did you pay a lot for your website? That can be one huge part of HVAC digital marketing, but it's not everything. If no one ever sees your site, it won't help your business grow or expand. In fact, it may eat up a lot of money without ever doing much for you.
That's where we come in! We can help you improve your search engine ranking and more with strategic advertising, a fully optimized website, and an expanded social media presence. In fact, our HVAC marketing expertise may help you find a steady stream of qualified leads...just like you've always dreamed about!
One key component to our HVAC digital marketing strategy is SEO optimization. We'll make sure that your website is ready to be found by search engines and is friendly to them when they come looking. We will help you find the keywords that will make you stand out from the competition. Our SEO strategy for HVAC companies includes:
Analyzing your placement. We'll look at your market and determine who your competitors are. From there, we will look at their websites and search engine results alongside yours. We'll find out who outranks you and what keywords they are targeting. We'll continue tracking them over time, so you can see how you improve in comparison.
Determining your search terms. We will look at the terms people in your area use when they search for HVAC services. We'll also look at the terms relevant to your business that get the most monthly search volume. From here, we'll work with you to determine the keywords that we want to target in our campaign.
Campaign building. Once we have your search terms, we will begin to build a campaign around them. We'll make sure that we add content to your site, improve your social media presence, and more, all with the aim of improving your ranking for these terms.
Tracking and monitoring. Every month, we'll see how your ranking has improved and made sure there aren't more search terms that we want to target. We'll also keep track of your website's traffic and any leads or calls that you get thanks to the campaign.
Campaign tweaking. As we see how your site's ranking improves, we'll tweak our campaign. We may choose to add more keywords or make other changes, all in the name of helping you grow your HVAC business.
HVAC PPC
Any decent HVAC digital marketing campaign will involve Pay-Per-Click advertising. If you aren't familiar with this, these are ads that are placed through social media and search platforms. When people search the right keywords, your ad pops up. If someone clicks on it, your account gets charged. We'll help you design and place these ads so that your business can grow.
We won't just set you free on this, though. Once we know the keywords you want to target, we'll help you come up with ideas for ads. We can even help you create the ads, making sure that they are perfect for your target market. Finally, we will place the ads for you, targeting it so that the right people see it and the wrong ones don't. We'll also track the performance of each ad and tweak it as necessary to get you even more engagement.
HVAC Web Development
Do you need a new website? It's a key component of HVAC marketing and it can go far towards helping you build your business. After all, you don't want to invest a lot of money and energy in sending people to an older website that might turn them off to your business!
If you decide to build a new website, we have people who can do it for you. We'll make sure that your new site targets all of your chosen keywords, include relevant calls to action, and helps people get the data they need to make smart decisions about their homes. We will craft your site to represent your needs, values, and who you are as a company, so people can know exactly who they are calling when they call you.
If you have a newsletter or a blog, we'll highlight that on your site, too. Anything that helps people get to know your brand is good for business, so we'll design your site around who you are.
HVAC Social Media
Social media is becoming more and more important when it comes to HVAC digital marketing. We will help you craft profiles that make you stand out. We'll also help you learn how to interact with your customers via social media in positive ways, so you can get good reviews and recommendations and draw people in. From Facebook and YouTube to Google's MyBusiness and Instagram, we'll help you find out where you fit in the social media realm.
Why Wit?
At Wit Digital, we believe that everyone deserves a quality marketing team and a solid strategy. Our SEO professionals are dedicated not only to helping you grow your business but also to getting to know you and incorporating who you are and what you stand for into all of the work that we do. We are experienced, professional, accessible and open to hearing about what you for your HVAC business.
HVAC marketing is one of our specialties and we love helping you grow!