Get Your Free Website Evaluation
Want to know how your website is doing? Get the results straight to your inbox!
Digital Marketing for Electricians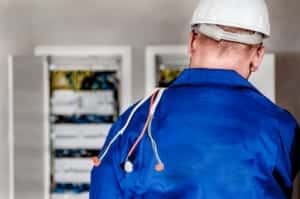 When you want to make your electrical business grow, what do you do first? Did you know that developing your online presence can be one of the most efficient ways to bring in new customers? At Wit Digital, we will help you improve your digital marketing for your electrical business.
Where you rank in search engine listings can mean the difference between getting new customers and them not even seeing you. We'll help you create a website that puts you near the top for important searches like "electrician in [your city]."
We'll also help you create advertisements that show up for the right customers at the right time and develop your social media presence so people can find and contact you on Facebook, Google Maps, and more.
When you work with Wit, you'll improve your search engine ranking and more. We know that marketing for electricians be hard, especially when you're running a business and serving customers. We'll use our expertise to make sure you get to use yours more and more every day.
If you haven't done much to optimize your website for search engines, then it's no generating the traffic and the leads that it could. We will determine which keywords should be your focus, then generate high-quality content that will help you rank higher in searches. We'll also use other proven tactics, like improving the number and quality of reviews you have online, to improve your ranking. Our process includes:
Analyzing your competition. We'll see what keywords your competitors are targeting and how we can structure a campaign for you to target them, too.
Finding your search terms. We'll see what people type when they are searching for electricians in your market so we know what to focus on when we're improving your rankings.
Campaign structuring. We'll help build a comprehensive campaign to improve your search engine ranking. We may add to your site, talk to you about redesigning your site, work to build your social media presence, and more.
Monitoring and tracking. We'll keep checking in on your campaign to make it as successful as possible. You'll get monthly updates from us and we will talk to you about the number and quality of your leads, too.
Tweaking your campaign. Based on what we learn from our tracking, we'll make small changes to your campaign to see if we can grow your business even more. Over time, we'll develop the perfect campaign for your business.
A good digital marketing campaign for electricians will always include focused, targeted pay-per-click (PPC) advertisements on search engines and relevant websites. We will not only help you figure out which keywords to target with your PPC ads, but we'll help you focus them so people from the proper demographic get to see them. Our services include:
Working with you to generate ideas for advertising campaigns. We will come alongside you to determine what your targeted markets are looking for and how best to draw them in.
Helping you design or create your ad. If you've never created an ad or a video before, we'll help make it look professional and polished before it gets published.
Publishing your PPC ads. We'll make sure the right ads end up on the right sites and that everything looks perfect so that your professional, polished image comes through from the very start.
It used to be enough to simply have a website. Any kind of web presence would put you above and beyond the competition. However, times have changed for electricians. Proper digital marketing now means having a site that stands out, so new customers will be able to identify what you do, what you're about, and why they should work with you, all within seconds of clicking on your site.
We have the web design experts you need to take your digital marketing for electricians to the next level. Our sites will help you draw in your customers and connect with them, right from the very first click. We can rebuild your site from the ground up, if that's what you need, then continue updating it with high-quality SEO content so more and more people will find you.
A solid social media presence is becoming more and more important in the world of online marketing for electricians. People don't just use these platforms for personal reasons anymore. Now, they use them to find businesses that they trust, too. We can help you decide which social media platforms you want to target, including Facebook, Instagram, Google MyBusiness, Yelp, YouTube, and more.
We'll get you everything you need to succeed on the platforms we choose for your business. This includes setting up your profile and making sure you know how to respond to customers who reach out to you via social media. We'll also train you in the best ways to ask for reviews, so satisfied customers can let everyone know what an amazing electrician you are!
Why Wit?
At Wit Digital, we believe that every business deserves the best when it comes to digital marketing for electricians. We have skilled professionals in every aspect of this business, from SEO to advertising to web design and social media. They will come together as a team to work for you and help you build the business of your dreams.
We would love to help your business grow! Call us today for a consultation or to meet with our skilled team and get started right away.