The internet is a mystical being…like a double rainbow…but what does it all mean!? And where exactly do all the assets on the internet come from?
The first ever website went live on August 6, 1991, born out of a physics laboratory. Since then, over a billion websites have gone live (Netcraft, October 2014). While Wit Digital is responsible for only a tiny fraction of those, we've launched our fair share of websites, and I'd like to share with you some insight into how that happens.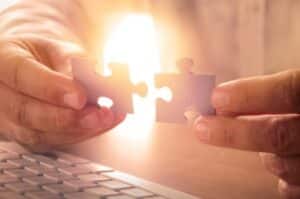 Discovery
After you decide to build your website, get ready to provide lots of information about your business and your objectives. Your website is like a persistent billboard showcasing your business. In order to efficiently convey your message and what you do, your developer needs to glean a lot of information. During this phase, normally the scope of the project is defined and you help decide what functionality is ultimately needed on your site.
Design
The design phase is my favorite. All the ideas, conversion elements, SEO and user experience considerations and branding from the discovery phase get boiled down into a beautifully thought out design. I love seeing hand drawn websites come to life digitally. Maybe one day we'll create them digitally right off the bat, but the organic progression from thoughtful paper sketch to live website is exhilarating and, I believe, very valuable.
Development
Usually the longest phase of a website build is the actual development. Now that the design framework, functionality and objectives are solidified, developers begin to actually build your website. They start by creating a development subdomain where your site temporarily lives while it's built. Then all the pieces are put together to include pages, content, images, forms, and more.
Testing
While not the most exciting, testing is perhaps the most important aspect to a website build. Testing in all browsers should be standard for your web build, in addition to testing all contact forms, functionality, redirects and broken links. When testing the development site is complete, the client should have ample time to review the site, click through all pages and get a feel for the site before it goes live.
Deployment
Getting a development site live is a process with a lot of anticipation. When the red button is pushed, there still may be some lag time before the site is viewable by everyone. More testing should be completed on a live site, as well, to ensure all forms work and everyone is happy.
Maintenance
The last part of the website build process is maintenance and SEO. Maintenance can mean a lot of things, but at the very minimum your site files should be backed up at least monthly. A backup of your site files is essentially a copy of your website and serves as insurance should your site ever be compromised by a hack or security threat. Other maintenance items include updating images or content, plugins, form verbiage and more. While some business owners have committed to learning how to maintain their own website, others find it easier to pay a minimal monthly fee to have someone manage it for them.
While this article isn't specifically about SEO, it's worth mentioning. A brand new website is only worth the potential of the traffic you're driving to it. I'll say that in another way. If no one is visiting your website, you might as well not have built it! It's safe to say that optimizing your new website for SEO is essential, and having a monthly SEO service is probably a good idea, especially if you're in a competitive market.
To find out more about the websites we've built, visit our portfolio. Questions about building websites? Shoot me an email! [email protected]