As local businesses, our identities are very much the communities we serve. That's why, during the holiday season, local businesses get a wonderful opportunity to give back to and uplift our communities through action. If you're wondering how your business can give back to your community this holiday season, you've come to the right place! Keep reading for 5 simple ways your business can embrace philanthropy during the holidays.
Donate Your Time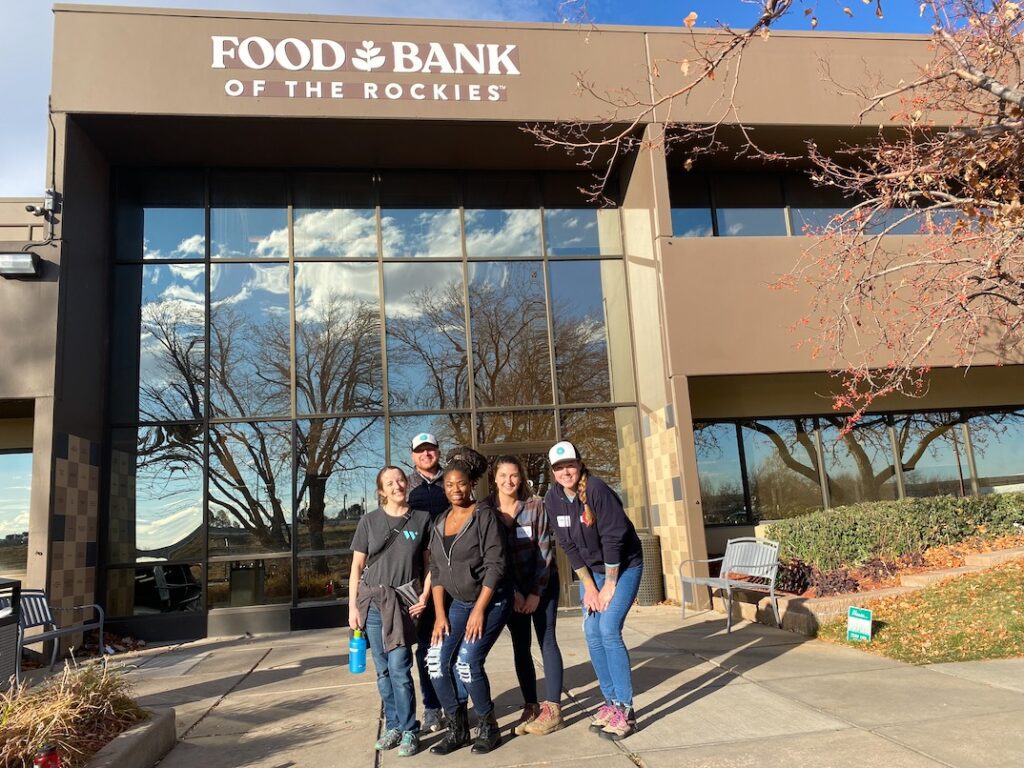 The holiday season is, truly, a dedication to giving and service. Thus, an easy, fulfilling, and impactful way your business can make a difference is to donate your time to your community. We recommend that you set aside a day where your team volunteers at a local non-profit or event. Not only will you be providing invaluable help to these organizations (did you know that volunteer time is valued at about $30 per hour?), but you'll also have a stellar opportunity to build relationships amongst your team, and bond through mindful, community-oriented service.
If you're unable to set aside a holiday season volunteer event for your team, encourage your employees to volunteer throughout the season! From food drives to holiday events and much more in-between, there are endless opportunities to give back through service.
For example, in November, Wit took part in two volunteer days at the Food Bank of the Rockies in Denver, CO. We did everything from helping facilitate food deliveries to local nonprofits, to serving food at the food bank's Kids' Cafe! These experiences not only allowed our team to find fulfilment building bonds and giving back, but we also provided invaluable help to a local organization who makes an impressive impact in our community!
How to Find Volunteer Opportunities
Sometimes, the hardest part of volunteering is finding the right volunteer opportunities. Check out these links to search for volunteer opportunities in your area. Or, touch base with local organizations and simply ask them if they could use volunteers!
Donate Your Money
If volunteering doesn't make sense for your business or you don't have the time to arrange a volunteer event during the holiday season, donating money is another great way you can make an impact. Even though you may not be present and providing your time to help organizations accomplish their missions, donating money will enable them to provide programming, resources, and/or services to your community.
Donate Your Services
Depending on what type of business you own, donating services to your community can be the perfect way to engage philanthropically this holiday season. For home service businesses, providing an HVAC unit or plumbing services to a homeowner in need can literally change a life.
Or, if you're a marketing agency like us at Wit, you can use your marketing knowledge and skills to help bolster a cause in your area that means a lot to you and your employees.Ultimately, the key to donating services is identifying where you can meet a community need and then creatively filling that gap with top-quality services only your team can provide.
Fundraise for a Cause You Care About
While there is absolutely nothing wrong with writing a check that you donate to a local cause, fundraising is a way that you can raise money for a cause, while also engaging with your community! Think of it this way — with a monetary donation from your business, you're simply giving your own money to a cause you care about (which is still an amazing way to give back).
With fundraising, you're creating and putting on an event or drive that directly involves your community. As a result, you get to provide a monetary donation while also building community and connections within your community.
There are a million-and-one fundraisers that you can take advantage of this holiday season to make a great impact. Check out this resource for some great ideas!
Give Your Platform to a Local Cause
As local businesses, we have respected, notable positions in our communities. We are there for our neighbors when they need us, and our reputations are recognized throughout our customer bases. Whether we realize it or not, local businesses have amazing platforms that can reach most, if not all, of our communities. If you'd like to make an impact this holiday season, but don't have the means to donate or put on a fundraiser, using your platform to raise awareness for local causes can move mountains.
Many times, people don't know that they have amazing, local organizations who are working hard to help the community. And, by simply using your clout to raise awareness of these organizations, their missions, and what they need, you can mobilize your community to provide help or engagement as needed. From a blog or social media post to something like a press release that announces your partnership with a local organization, there are many ways you can use your business' platform to highlight philanthropy in your community.
Making the Most Out of the Holiday Season
The holiday season is a magical time. From celebrating with friends and family, to banding together as a community to reflect on the year and enjoy all that we have, it's a time where hearts are full and memories are made. As local businesses, we couldn't be here without our communities, and that's reason enough to give back. We at Wit Digital hope that this blog has provided you some insight as to how you can engage philanthropically with your community, and wish you a lovely holiday season!