Email is not dead.
Your customers want to hear from you regularly, so make sure you're sending them a valuable email a minimum of once per month. This keeps you top of mind when they need your services.
The biggest obstacle that most companies have with sending emails is that they don't have the system set up and they don't have an email template created.  So, today, we solved that problem for you.  Included below are instructions on setting up a free email account, a simple, clean email template that you can edit and use, and subject lines that will boost your open rate.
61% of customers enjoy receiving informative and promotional e-mails weekly; 38% would prefer to receive those e-mails even more frequently. If e-mail is not currently part of your digital marketing strategy, it needs to be.
Sign up for your free MailChimp account here. Then, download this template we've created for you. Customize it with your logo, informative information/articles to help your customers in-the-know, your company information, and current offers. Upload your customer's email address and click send!  Viola!
Below are the top home service email subject lines to boost your open rates.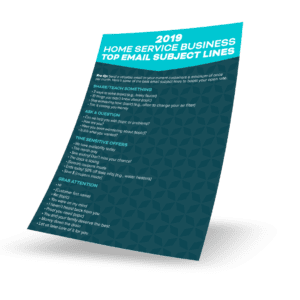 Download service business subject line freebie here