Instagram now allows you to add alt text (alternative text) to your images. You can either customize it (which we recommend), or let Instagram automatically add it for you.
Why is alt text important?
In a nutshell, alt text provides alternative description and information for an image if a user cannot view it (e.g., slow internet connection, or if the user has accessibility needs and uses a screen reader). It's an opportunity for you to include your target keywords, target your ideal customers, and create a great user experience.
We're seeing some indications that adding this alt text may help SEO (increase your brand visibility within search engines), so we're going to test this new feature. We'll keep you posted on our findings! In the meantime, we encourage you to go into your Instagram and update your photos with descriptive alt text to see what happens.
An example of good alt text
For example, if you post the following photo on Instagram, good alt text would be: Happy Edward's Plumbing husband and wife standing in doorway after excellent service appointment says Edwards always provides quality and affordable services for my family.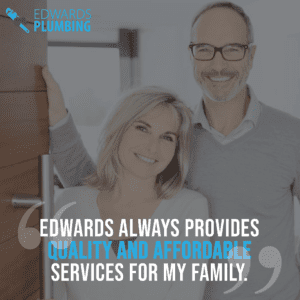 Here's how to add alt text to your Instagram photos
Here's how to add alt text to your photos before posting:
Find the image you want to post

Select your desired filter, then click 'Next'

Select 'Advanced Settings' at the bottom

Select 'Alt Text'

Write your alt text and click 'Done'
Here's how to add alt text to your photos (that you've already posted):
Find the post you want to add alt text to

Select the three dots in the top, right-hand corner, then select 'Edit'

Select 'Add Alt Text' located in the bottom, right-hand corner of your image

Write your alt text and click 'Done'
For a short video tutorial, watch here