This Wit Wednesday, we explained why you need to be including branding in your PPC campaigns (Pay Per Click). One of our very own PPC managers, Megan, went over the 3 major reasons why you should be thinking about branding for PPC.
Branding and PPC work together because:
#1 Establish brand awareness & authority—> 1/3 of people click on branded ads
If somebody is doing a branded search for you, about 33% of people are clicking on your specific ad! Having full brand presence on that first page is very effective to potential new customers clicking your ad.
#2 Create a lasting brand impression —> consistent look across search engines
Not only is consistency effective for branding, but for the home services you provide. Branding your service-based ads ensures you pop up for a specific service oriented search. For example, if a potential customer was searching for "furnace tune-up", an ad you branded specific to those keywords could pop up and ultimately lead them to your home service company.
#3 Highly curated user experience—> able to tailor people's experience with your own brand.
Here at Wit, we are able to tailor landing pages for returning customers to say things such as, "welcome back!" or,  "thanks for coming back!" It gives a more personal touch and an overall more curated experience to customers.
Check out our Facebook Live video by clicking the image above of Megan going over branding and PPC!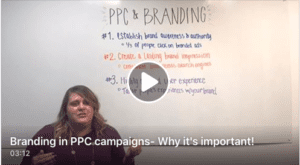 If you aren't implementing these tips in your home service company's PPC campaign, then you aren't reaching your digital presence potential.
That's where Wit can shake things up. 🧨
Give us a call at (800) 444-8957 if you're ready to reach your fullest online potential!